Customer Reviews: Digital Word of Mouth
Monday, 21st January 2019
How many times have you checked reviews online before making a purchase or a booking online? Finding out what other people think and the experience they have had has become more important than ever for online transactions. How does your business measure up?
Showing customer reviews on your website can
Increase your sales or conversions, by building trust with your customers
Improve your traffic from search engines
Make your pay per click advertising more effective
Protect you against malicious reviews
According to the Bright Local Consumer Review survey, 91% of 18-34 year old consumers trust online reviews as much as personal recommendations.
How Do I Get Reviews?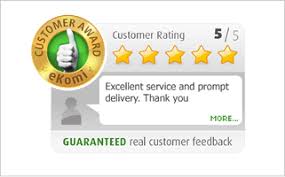 There are many ways to collect reviews for your website or business. Tripadvisor deals with travel and restaurant reviews, Trustpilot is good for online companies, and Google local reviews are useful for local businesses, but which is right for you?
We've started to use eKomi to collect reviews and we think it's the best option.
How Does it Work?
When a customer buys your product, or makes a booking on your website they are automatically sent a request to submit a review. If the customer writes a review, it is displayed on your website so that other potential customers can see your rating and read the recommendation. Your star rating (generated from the review scores) can also be displayed in your google search listing, google local entry or in your google ppc ads, which encourages more click-throughs.
Not Just Online
It's not all online either - eKomi also enables you to take point-of-sale reviews, so customers can leave a review for you at your office, or in your premises.
A Real Example
We recently launched a new website for Studford Luxury Lodges - luxury holiday lodges with hot tubs in North Yorkshire. They wanted to start to collect customer reviews to help generate more bookings so we plugged then into the eKomi system. Their customers can leave a review at the end of their holiday, or they will be sent an email asking for a review a few days after they check out.

Interested?
If you'd like to start collecting customer reviews to improve the performance of your website, or to increase your search engine visibility please get in touch.