Content Mistakes that can Harm Your SEO
Monday, 28th January 2019
We design and build websites with search engine optimisation (SEO) in mind, but sometimes that SEO can be wiped out by a mistake made in the content management system (CMS) after the site has gone live. Take a look at these issues and make sure you're moving your website forwards without sending your SEO backwards.
Massive Images
Google has said in the past that the speed at which a website loads is one of the signals used by its algorithm to rank pages. We aim to get the pages on all the websites that we have designed to load in under three seconds, through intelligent design, deferred loading and slimming down image sizes.
Images are usually the "heaviest" part of a website, that's why we take extra care with them, but our CMS allows our clients to manage their own website images.

An entire web page, with all the HTML code, the JavaScript, the CSS and the images can weigh in at around 1Mb. An image you take on a digital camera can be around 5Mb, so if you upload an image to your website straight from your digital camera without resizing it or compressing it, that can increase the loading time of your page by six times, which will be disastrous to your search engine position.
The longer a website takes to load, the more likely a visitor is to leave the site too. According to the Google pagespeed benchmarks if the loading time goes from 1 second to 6 seconds, the probability of a bounce increases by over 100%.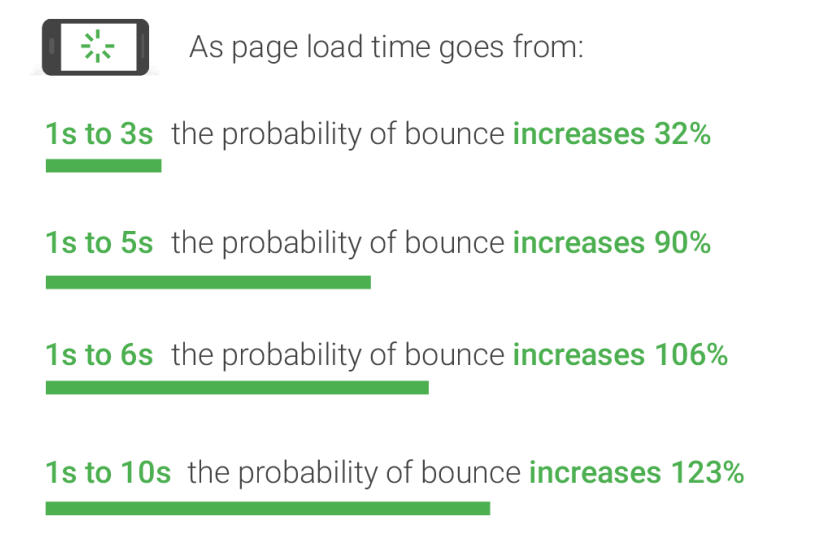 Top tip: resize and compress those images, or let us do it for you.

Scraped Content
You've been told that you need to keep your website "fresh" by updating the blog every couple of weeks, but writing text for your next blog post is hard work. It can be tempting to copy and paste a blog post from someone else's website into your own. Don't do it! Not only are you infringing someone else's copyright, if your website text is a duplication of another website then google isn't going to send visitors your way.
Top tip: craft your own content, that comes across in your own voice, that's unique to your customers. Or talk to us about copy writing services.
Spammy Looking Meta Tags
When we launch new websites we do so after putting meta titles and descriptions into all of the web pages that we think will help attract visitors from search engines, but our content management system allows our clients to adjust these "meta tags".
If you're selling widgets, and you want your website to be found in google in a search for "widgets" it can be tempting to change the title of your homepage (or every page) from a lovely content-rich sentence that flows, to something like "widgets widget, widgets, widgets, widgets"! Please don't. Not only will your listing in google look spammy (the meta title is usually what google uses as the visible link to your site in search results) but it will damage your search engine position.

Top tip: your title tag should tell search engines what the page is about, include your key words, sound appealing, feature your company name and ideally be less than 67 characters. Phew.

Broken Links or Images
The web is great. If you find something interesting you can add a link to it on your website. Or if you see a nice image (that you're allowed to use) or a useful pdf document you can pull it into your website. But the web is constantly shifting - domain names change, websites get redesigned and restructured and you can end up with a broken link or a broken image on your own website. These are not only bad for user experience, they can harm your relationship with google. Top tip: take care when you're adding anything to your website that someone else can control.

Need Some Help?
We offer a monthly site audit to our clients. We take an hour or two to test the website in full, checking for
Architecture and crawl issues
Incorrect or duplicate page titles
Missing heading tags
Canonicalisation issues
Redirect loops
Broken links
Heavy images
Mobile responsive issues
After we've run the test we let you know we found, and if we have any recommendations.
Because a little TLC can do wonders for your SEO.
If you'd like some more advice, or want us to check your website over please get in touch.